12/22 雪うさぎ(リクエスト) SnowRabbit(requested)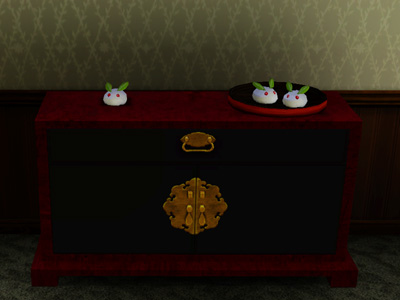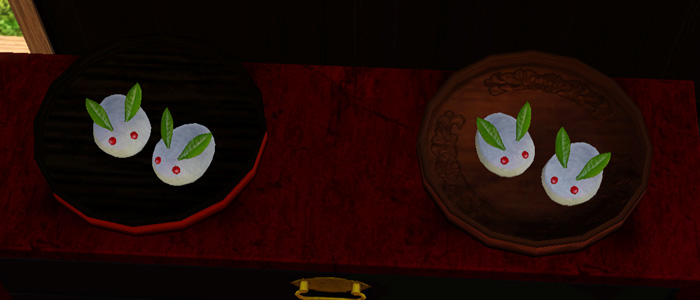 雪うさぎ単体と、盆に載った雪うさぎです。盆はカタログには3種類…あれ、4種類だったような気もするけど写真が無いわ。
this is the snowrabbit which it made in response to a request.
How to make Japanese-style snowrabbits:
I harden snow. As for the ear, the leaf of the nandin, eyes are fruits of the nandins.
SL_SnowRabbit.zip download 397KB
12/23 和窓 Japanse window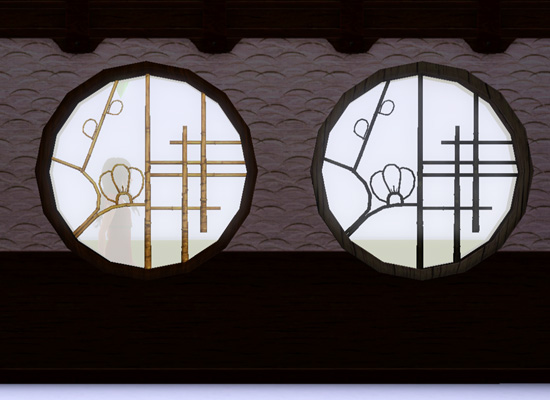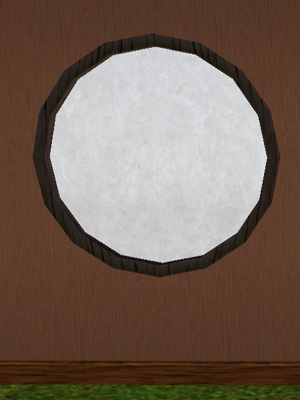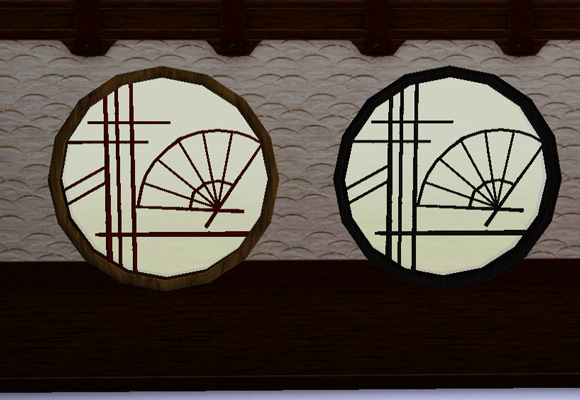 日本の丸窓。梅柄と扇柄。メッシュで表現してるので別ファイルです。
中から外へはうっすら見えるというのに拘りました。本当は影が映るくらいが理想ですがそんなの出来なかったので…。
外からは障子紙で中が見えません。
A Japanese round window. A plum design and a fan design.
you can see the outside slightly from the inside.You cannot see the room with shoji paper from the outside.
SL_JapaneseWindow.zip download 920KB
12/24 門松&ミニ門松 New Year's pine and bamboo decorations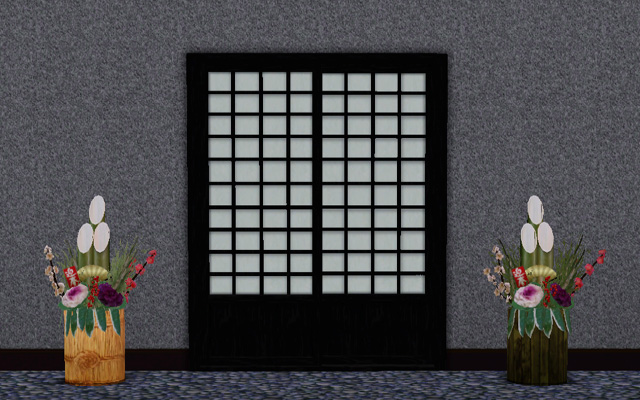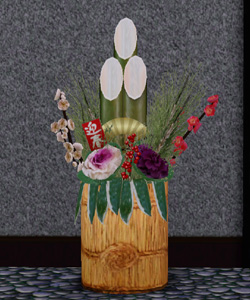 日本人として全力を出さねばなるまい、と張り切ったら、頂点数が1万越えた…。
おそらく梅の花が原因だ。
ちょっと松を透過し過ぎたかなぁ。
As a result of having made every possible effort as a Japanese, vertex exceeded 10,000.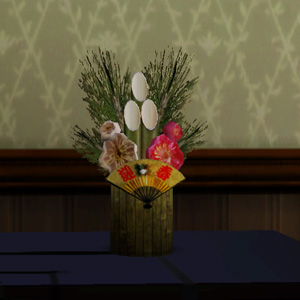 ミニ門松。こっちは小さい植物の鉢と同じ大きさです。
Mini. This is small potted plant and isometry.
SL_Kadomatsu.zip download 2.0MB Kadomatsu&Mini
12/24 神棚 Shinto family altar
神棚です。日本人にはその一言で済むんだが、英語でどう説明すれば…。
えーと、少なくとも門松よりは軽いです。直線だからね。キャビネット扱いですが、その他装飾品のとこに出ます。
Kamidana are altars, generally installed in the home above the lintel, where charms and amulets from Shinto shrines are enshrined at.
The altars are made of wood with roofs and steps, and the charms and amulets are put in the center.
Occasionally, sake, food and candles are offered, and people prayed for family safety and business prosperity in front of the kamidana.

It is cabinet handling, but can discover it at Misc Deco.
SL_Kamidana.zip download 354KB