蛇足
Snake Legs.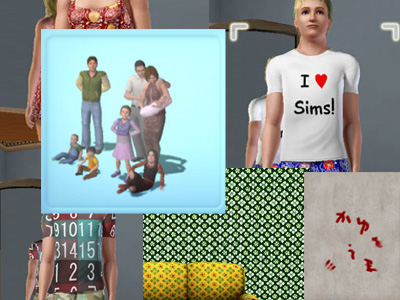 ここは、センスも技術も時間も無いおばちゃんが、何か余計なことをしでかすサイトです。
新しいツールが出る度に、何か弄ってみたくはなるけれど、どれも中途半端になってます。
でも、新しくわさわさツールが出てくるのが楽しいんです。
シムピもシムズ2も爛熟期に加入したから、自分で作るまでもなく何でも揃ってて。
はじめに(First)
更新履歴(What's New)  最終更新:4/27
download
ものすごく初心者向けパターン作成のとっかかり
Delphy's CAS Texture Unitoolの使い方 (Ver1.7)
   Tシャツなど画像の乗せ方
   レギンスを作ってみた(アルファチャンネルを弄ってテクスチャを透過)
   色替え部分を追加してみた(ただし3色まで)
   新しいメッシュを追加することが出来るようになった(Ver1.8から)
   色替え出来る帽子やリボン付き髪を作れるようになった(Ver1.9から)
DABOOBS(Delphy's Acronym Bending Original Output Barber Shop)の使い方
   自由にお使い下さい髪素材。とりあえず、DABOOBSを弄ってみたい方用
オブジェクト作成覚え書き(S3OCとS3PEにて)
TSWRの使い方
   初心者向け:メッシュはそのままで絵だけ差し替える方法
   挑戦者向け:メッシュも自作でオブジェクトを作る方法
CC導入に役立つツール類
シムズ3プレイ日記(Play report)
←webclap 何かメッセージがある方はどうぞ。If you send a message,clap please.  御返事(Res in English)
RES:You can convert my CC for sims2 freely.
    I do not abandon a copyright. However, I think that anyone of the world should use it with some freedom after having updated it. Do you not think that it is wonderful that myCC flows through the world?
Towards the English zone

Welcome to my website!
90% are written in Japanese here.
But, only the download contents intend to write the English jointly at least. …I make an effort from now on.
I enjoy playing sims3 . I enjoy that I make MOD almost as same as it.
Quality being unsatisfactory, since the curiosity "whether this can be made" won rather than having raised the completeness of one thing, but is happy if I have you enjoy it.

Slight instructions.
The Japanese date indication is year/month/day.
When you want to send a message to me: Please use upper "webclap". This is a thing such as the Thanks button of MTS. You can send the short prose. It do not need your personal information.

SnakeLegs:
 Is a Chinese historical fact idiomatic expression; (I am a Japanese, but Chinese historical fact idiomatic expressions are used well in Japan).
A Chinese merchant said to a servant in old days.
"To the person who drew the picture of the snake, I will put up this liquor in a reward earliest"
One servant finished writing it earliest while everybody drew the picture of the snake.
And He said while drinking the liquor of the reward.
"All are slow! There is me until time to add a foot to a snake! "
He added foot to a snake proudly.
As a result, liquor had been taken up from him, "This is not a snake".
In other words "SnakeLegs" means that I "do an unnecessary thing and spoil things".
It is the words that are just good for my site.In the meaning that I do an unnecessary thing and spoil!

シムズ2はMaxisおよび、エレクトロニック・アーツ社の商標です。当サイトはそれらとは一切関係ありません。
THE SIMS,THE SIMS 2,3 are registered trademarks of Maxis and Electronic Arts Inc. All Rights Reserved.Copyright SnakeLegs.
This site is not endorsed by or affiliated with them or its licensors.
Trademarks are the property of their respective owners.